59 Oldsmobile outside sun visor

August 25th, 2011, 03:26 PM
Registered User
Join Date: Nov 2009
Posts: 53
59 Oldsmobile outside sun visor
---
Looking for a 1959 Oldsmobile outside sun visor. I dont believe they made them for the 59 so I have been told but I also been told there a very rare iteam to find . Looking for any and all help. Thanks

August 25th, 2011, 04:50 PM
Registered User
Join Date: Mar 2008
Location: Puyallup, Washington
Posts: 75
317campbell, there was no outside sun visor for the '59 Oldsmobile, but there is a rare after-market sun visor for the '59 General Motors cars. This was a heavily tinted plastic panel that mounted on the inside of the car's windshield -- behind the rear view mirror -- and could be slid forward or backwards to function as a heavily tinted visor.
This was a factory-authorized accessory for the '58 Pontiac, but, again, at least one after-market manufacturer offered the item for the '59 GM cars.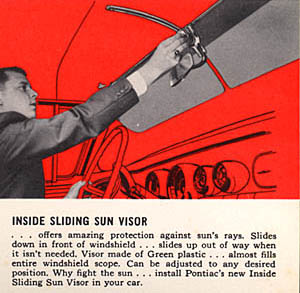 What model '59 Oldsmobile do you own? I have heard that the 2-door hardtops had rear seat sunvisors to protect the heads and necks of rear-seat passengers, but have never actually seen these.
---
Last edited by Centurion; August 25th, 2011 at

04:53 PM

.

October 28th, 2012, 10:51 PM
I have seen the rear sunvisors in a small glove box brochure and by gee whizz they look just like the rear sun visors I got from Ebay. I had never seen them myself either so when they came up I knew it would be a long time before I saw another set.

So I bid up big and got them for a fair price for their rarity I thought.

They sport not 1 but 2 chrome roof connectors. They are going in when I do the interior roof linning.

January 21st, 2013, 08:13 AM
Registered User
Join Date: Jun 2009
Location: southern New Mexico
Posts: 12,170

January 21st, 2013, 09:06 AM
Registered User
Join Date: Jun 2011
Location: Portland, OR
Posts: 229
Rear Sunvisors
---
Say 5998downunder, can you post a couple pictures of the rear Sunvisors you bought? I've seen them in the brochure but never for real. My car came with three sets of visors of which two are the same and one very different and meant to attach on both ends.

January 21st, 2013, 11:23 AM
Thread
Thread Starter
Forum
Replies
Last Post
August 2nd, 2013

08:11 PM
April 29th, 2013

10:29 AM
April 19th, 2012

02:43 PM
February 20th, 2010

07:19 PM