Engine stand for a 371

October 28th, 2017, 07:18 AM
Engine stand for a 371
---
Now have the 371 out of my '57. Has anyone built a mount to put this engine on a stand. Looks like a lot of weight to have hanging on the cast bell housing end of the block. Also weight mass is so far from upright on engine stand. Looked at using front end on engine but that didn't look safe either. Would like to get it off floor to tear down. Thanks to all in advance.

October 28th, 2017, 09:52 AM
I've had a 455 on a parts store engine stand for 8 years and it's just fine. I put a 394 on a similar engine stand for a few months when I disassembled it and reassembled it for an auto engines class years ago. If you're concerned just use a 2x4 between the crank pulley and the ground to support it when you're no working on it.

October 28th, 2017, 12:56 PM
The bell housing mount will hold up fine as is but my China built engine stand was maxed out with the weight of the first generation engine. There was a noticeable sag at the mount and made it difficult to rotate the engine. It did work but something stouter would have been much better.... Tedd

October 29th, 2017, 05:20 PM
These first generation engines weigh at least 750 lbs.
Closer to 800 with things like A/C compressors , starter , etc.
I would not use an engine stand rated at less than 1000 lbs.
The block will be fine if attached as shown below . It will be very top heavy with the heads and intake on . So be careful .
This is a 1250 # stand I got from Jeg's
---
Last edited by Charlie Jones; October 29th, 2017 at

05:35 PM

.

October 29th, 2017, 09:34 PM
Not really a choice
---
X2 what Charlie Jones said. You can't be too safe. For roughly $40 more you get the 1250 lb. rating with double legs extending out. Double legs are critical for not tipping. I'd even think seriously about replacing those small diameter casters with something a bit more robust. It is not pleasant when the engine is mounted and small dia. casters get stuck in expansion joints on concrete floors, are stopped by something small like the cut off end of a 1/4 bolt that didn't get picked up etc. Tugging a loaded stand out of a joint or over a small object is just when balance is most likely to want to tip the whole thing over. Photo is typical discount tool single extended leg stand. Trouble waiting to happen.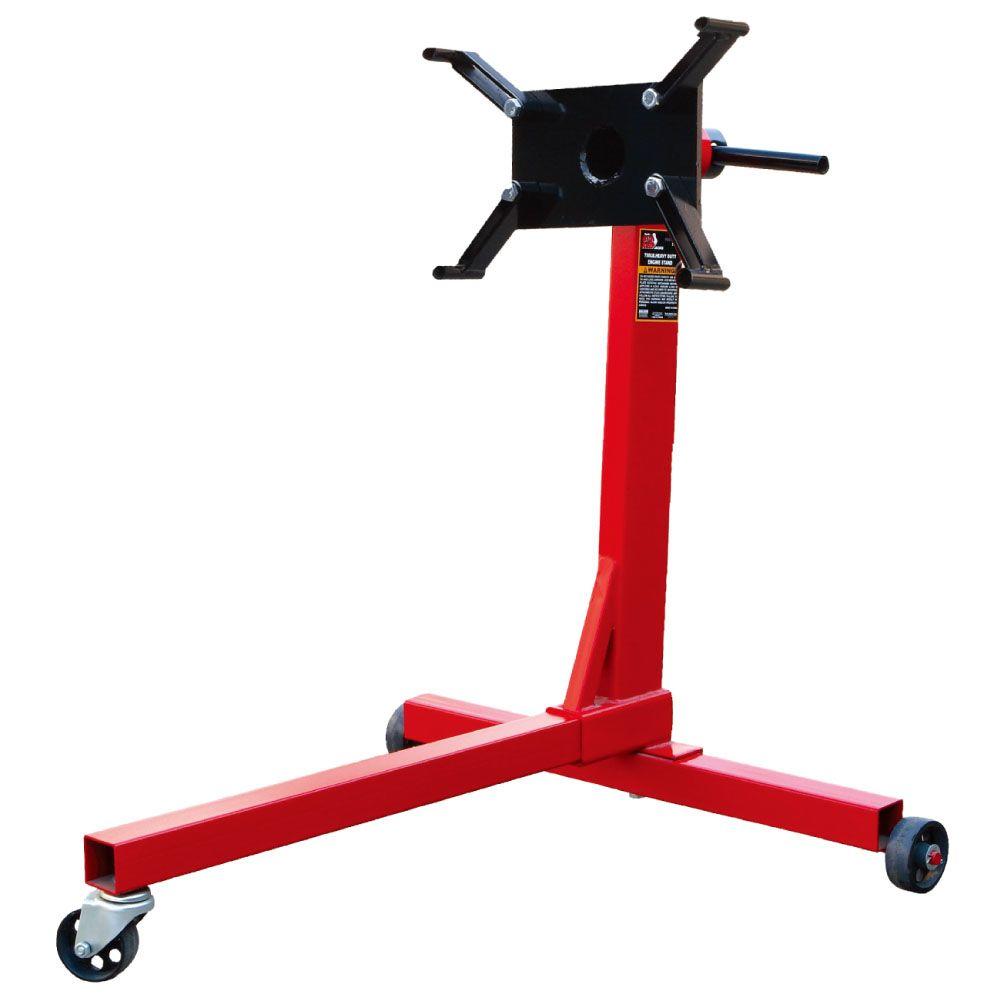 October 30th, 2017, 05:30 AM
That's the kind of stand I have my 455 on. It's ok, but to be on the safe side you should definitely go for a higher rated stand if you can afford it.
Here's a beast I would even be willing to put the diesel engine from my truck on:
Amazon
Thread
Thread Starter
Forum
Replies
Last Post
November 5th, 2016

08:04 AM
January 10th, 2009

06:20 PM
November 19th, 2008

10:40 AM