Who has a full chassis car?

March 9th, 2017, 07:23 PM
Who has a full chassis car?
---
I converse with Neeley semi often, mostly about our chassis cars, and remember that cutlass freak has one too. Curious who else has an olds powered olds body chassis car, back halves welcome too. If you don't mind post a few pics of your chassis and suspension with details. Hoping that those of us that have cars in progress or complete can shoot ideas around. And then there will be info compiled in one thread for someone in the future that may want to build a chassis. I have a 1962 cutlass body, Chassis works eliminator 2 frame kit.
68F298AD-E613-4F85-87C8-9A97F97C9CC7_zpstr50kxni.jpg
F213801C-029D-40F3-A97E-491A39562386_zpsfdtsunei.jpg
5F335068-A0B5-4487-AC76-9FDA31523191_zpsmiplzcum.jpg
Rear suspension is the matching eliminator 2 4 link, strange adjustable shocks with coil over springs, home made x link locator. Planning on adding the matching sway bar.
---
Last edited by young olds; March 9th, 2017 at

07:30 PM

.

March 9th, 2017, 07:34 PM
DSCN1120_zpscd5f2c27.jpg
DSCN1122_zps218b729a.jpg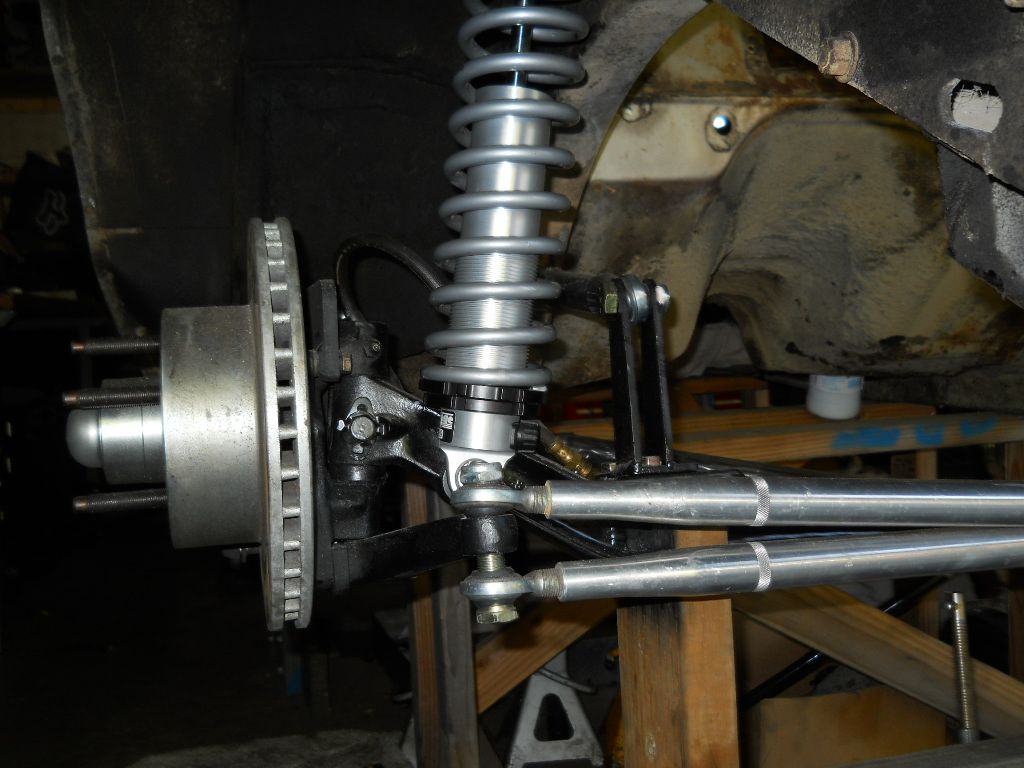 Front is a narrowed drop axle out of an old dodge pick up iirc. Triangulated four link(bought tubing and end links and made it myself), strange adjustable shocks with coil over springs.

March 13th, 2017, 08:22 PM
Chassis Car
---
Hey guys what's shakin'? Sorry I haven't been on here for a while. I've been super busy. Changing a few things on my car before racing season. New master cylinder, rear caliper, alternator, delay box, slicks, rear end gear, and a brand new MSD power grid. I'm hoping to hit every bracket race I can over this summer as well as a trip to Norwalk. Also picked up a new 28 foot enclosed car hauler trailer. Well my buddy did, and I have full access to it. No I didn't hit the lottery, just workin' my *** off. I'm also the crew chief for Mike Ruth's Bob Glidden tribute Fairmont. His car runs well into the eights, and we are installing a Lenko trans as well as a data acquisition system. On top of that I'm still porting heads. I'm just about done with a set of "C" castings for Milan. My goal is to have a set of fully ported BB & SB heads on the shelf ready for purchase. What does all this have to do with building a tube chassis car? Absolutely nothing... my bad, sorry I'm sleep deprived. Anyway here's my build thread with tons of chassis fab photos -
https://classicoldsmobile.com/forums...e-chassis.html
Young Olds I've been following your build and have to say I think it looks real good. I was going to do a back half on my car but my chassis guy talked me into a full tube chassis car, and I never looked back.
Keep those photos coming and be sure to have fun with your build, Dave - The Freak
Thread
Thread Starter
Forum
Replies
Last Post
February 14th, 2018

06:41 PM
Miscellaneous Classifieds
December 28th, 2017

03:19 PM
January 7th, 2013

08:42 AM