hatch won't open from the inside

February 2nd, 2016, 07:10 PM
Gearhead in training
Join Date: Jan 2016
Location: Cincinnati, Ohio
Posts: 390
hatch won't open from the inside
---
Anybody know why the hatch on my 83 custom cruiser wont open from the inside? I assume its a child lock but where is it and how do i disengage it?

February 2nd, 2016, 07:39 PM
There is no child lock. The tailgate opens both as a door (side hinge) and as a tailgate (bottom hinge). The outside handle opens it as a door and the inside handle opens it as a tailgate. It will open as a door with the window in any position but will only open as a tailgate with the window all the way down. There is an internal mechanical linkage that prevents opening as a tailgate unless the window pushes it all the way down.
There are two possible causes - both have happened to me. First, the linkage (called a "blocking rod" in the Fisher Body Manual) can get out of position. You need to remove the inner trim panel from the tailgate and reposition it. Second, and more likely, is that the side hinges are worn due to the weight of the tailgate. The latch linkage is such that if the RH latches are not properly latched, the gate will not open as a tailgate. Worn hinges prevent the latches from latching properly unless you slam the gate while holding the outside handle up. I've had two metal tailgates, both with worn hinges that had this problem. My 84 Custom Cruiser has the rare fiberglass tailgate and does not have this problem.
I'll also note that an improperly latched gate will often cause the DOOR AJAR light to remain on. Usually this is overcome by removing the warning bulb or jumpering across the switch in the gate.
Get a Fisher Body Manual for your year. The gate internal linkage and associated adjustments are covered in it with diagrams.

February 3rd, 2016, 06:32 AM
Has it really been that long since every family owned a station wagon?

You might want to pull this out of the glovebox:
Also, THIS is a hatch:
Your Olds has a TAILGATE: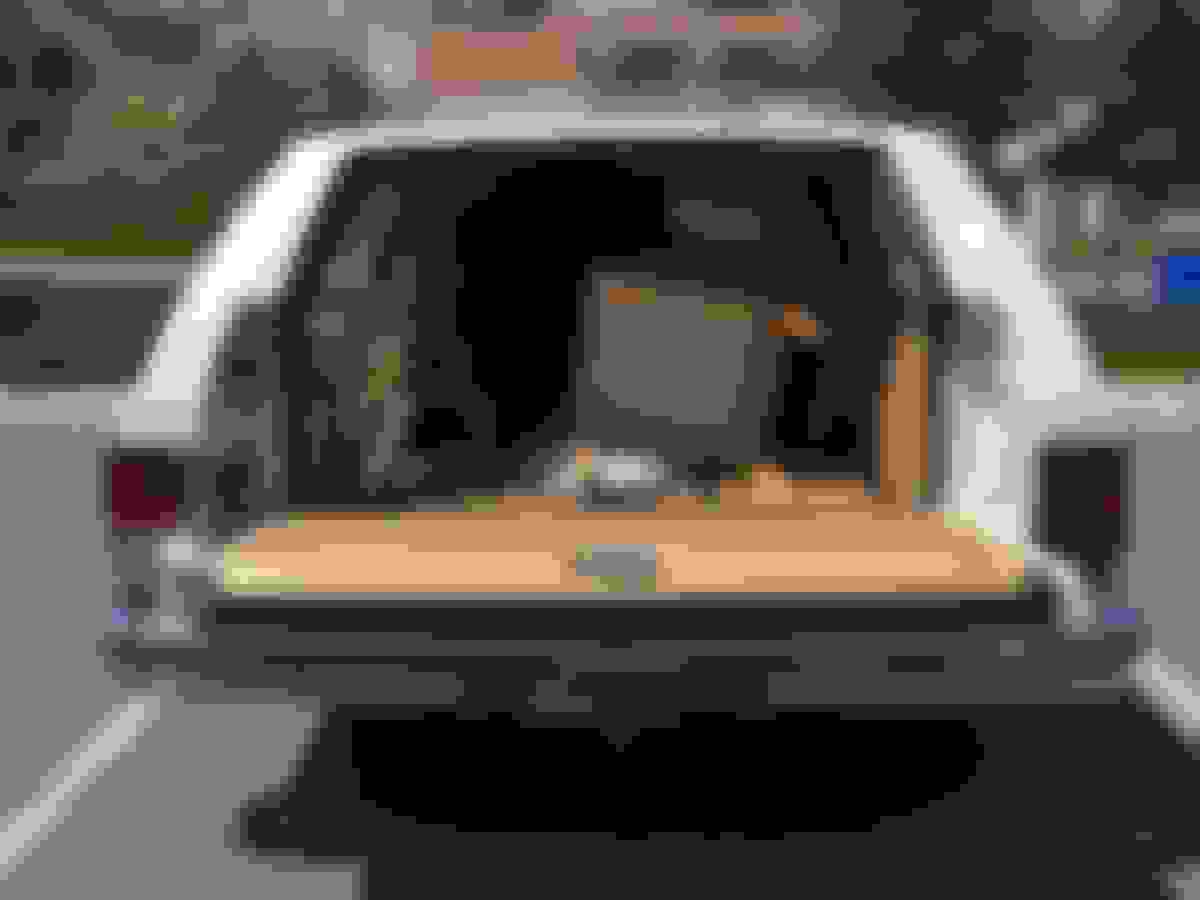 February 3rd, 2016, 08:11 AM
Gearhead in training
Join Date: Jan 2016
Location: Cincinnati, Ohio
Posts: 390

February 3rd, 2016, 09:38 AM
Oldsdruid
Join Date: Dec 2007
Location: Southside Vajenya
Posts: 6,352

February 3rd, 2016, 12:56 PM
DUDE!!!!!

You've been missing out! One of my all-time favorite uses of my Custom Cruiser is to sit in the back seat with the tailgate down, drink a few beers and listen to music while I play with my dog in the backyard on the bayou!

Also... yeah. I find if the gate doesn't wanna come down, I just rework the rear window until I'm sure it's all the way down.

February 3rd, 2016, 02:09 PM
Gearhead in training
Join Date: Jan 2016
Location: Cincinnati, Ohio
Posts: 390
I will use this bit of information wisely haha now that i know the tailgate drops down the way it does ive got myself a new campfire throne! While were at it, would you happen to have any good suggestions for getting her painted? Its in great condition but the previous owner slapped their keys against the door frame so its all spotted everywhere and i just figured a good paint job could do nothing less than make it shine

February 4th, 2016, 03:44 AM
Oldsdruid
Join Date: Dec 2007
Location: Southside Vajenya
Posts: 6,352
Depends on what you're looking for. A MAACO or Peach Auto paint job will probably be fine if you just want a maintenance paint job, though individual franchises can vary in quality. Some of them will also try to sell you a bunch of body work since that's where they make their money.


An independently owned body shop may be more expensive and then you get into a lot of them don't want any work that doesn't have an insurance check attached.


Your location also affects cost repaints. California for example makes paint work prohibitively expensive with all their environmental regs.


Check into local high school or community college auto body programs and see what they can do for you. Usually only have to pay for materials and some of these kids turn out awesome work. I had my Cruiser painted at a local high school and it cost me materials and a pizza lunch for 20 boys, and Papa John's had a 5 for $25 pizza deal going at the time.


Talk with coppercutlass. He's a bodyman in Chicago area and can guide you with average costs.

February 4th, 2016, 09:12 AM
Gearhead in training
Join Date: Jan 2016
Location: Cincinnati, Ohio
Posts: 390
Im located in the middle of ohio, Indiana, and kentucky. I just didnt want to take it to the big body chains. Ill give the highschool idea a try and see what coppercutlass has to say. Thank you!

February 4th, 2016, 09:34 AM
Oldsdruid
Join Date: Dec 2007
Location: Southside Vajenya
Posts: 6,352
Sounds like you're around Cincinnati. Plenty of Olds guy activity round there and the Olds Club Nationals have been in Cincy several times. You're not that far away from this year's National Meet in Kingsport TN- couple hundred miles if you and Cruiser are up for a road trip to a big all-Oldsmobile show. You don't have to be an OCA member unless you want to show a car and take part in all the banquets and side trips. Any Olds enthusiast can visit the showfield and swap meet area, and there'll be a bunch of us CO guys there.


I may be on the Gray Ghost Cruiser this year since that's the only Olds I have that's completely roadworthy now. Unless it's super hot, then I'll drive the Big M 'cause Cruiser's A/C don't work.

February 4th, 2016, 09:48 AM
Where do you think the term "tailgating" comes from? You'd drive to the parking lot at the stadium and before the game you drop the tailgate and use it to put out the food for the party before you go in.
Also, note that the 77-90 B-body wagons will accept a 4x8 sheet of plywood flat in the load area, but you have to have the tailgate opened like a gate for it to fit. It won't go in with the gate opened like a door.
Thread
Thread Starter
Forum
Replies
Last Post
August 18th, 2010

05:35 PM
February 11th, 2010

02:58 PM
November 24th, 2008

12:58 PM