Urgent: 1974 396021F Motor: HEI or no HEI?

February 12th, 2011, 07:26 AM
Urgent: 1974 396021F Motor: HEI or no HEI?
---
Hi guys,

I have a stock 74 olds 98 w/ all stock 455 engine code 396021F.

Do I have HEI or non HEI Ignition? How can i see the difference? It's urgent I need to go to the shop and get plugs+wires!

Regards

February 12th, 2011, 07:35 AM
Look at the distributor, if there is one wire (that looks like a spark plug wire) in the middle of the distributor that leads to a coil then its points. If there is no wire in the middle, just the 8 plug wires, then its HEI. I believe they started using HEI in 74
---
Last edited by Beob; February 12th, 2011 at

07:46 AM

.

February 12th, 2011, 10:17 AM
Oldsdruid
Join Date: Dec 2007
Location: Southside Vajenya
Posts: 6,301
Well- you could have either points or HEI in 1974.

Beob makes an easy distinction. A separate coil with wire from coil to center of the distributor cap is a points ignition system. If your cap is large, with a square coil mounted in the center, it is HEI.

If still not sure, pull one of the plug wires off the cap. If the cap has a metal "tower" that the wire snaps on to, it is HEI. If the wire has a metal terminal extending out of it and the cap has a recess for the wire to plug in to, it is a points style.

I keep forgetting that as hard as it sometimes is for us to find these parts in North America, the guys in the rest of the world have it even worse.

February 12th, 2011, 11:07 AM
HEI:
HEI: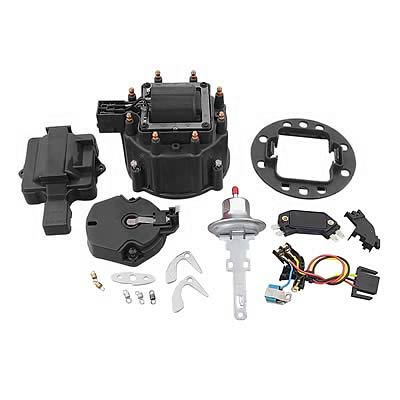 Points:
Ignore the colors - parts can be any color.
- Eric

February 12th, 2011, 11:18 AM
That video sounds like Falco signing in Spanish!

February 13th, 2011, 10:24 AM
K, thx, then I have a points distributor!

February 13th, 2011, 11:50 AM
Just an Olds Guy
Join Date: Jul 2008
Location: Edmonton, AB. And "I am Can 'eh' jun - eh"
Posts: 22,700
If you want proper date coded wires, here's a link: (its for my 72, but they also can advise you if they have 74)
http://cgi.ebay.com/ebaymotors/ws/eB...TQ:MOTORS:1123
MDmechanic: Great photos. No guessing for a newbie there.
Also, if you do convert to HEI, you will not need the coil, and you will need a different air cleaner housing. The stock one will not fit after you install HEI. There are a number of points of view about which system is better or more reliable. I personally like the HEI for reliability.

February 14th, 2011, 11:19 AM
Great link thx!
I just placed an order at Summit. Searching local shops for comparative parts is too hard. I will do a carb+ignition rebuild because my engine doesnt accept the gas pedal correctly and sometimes goes off. (Sorry didn't know how to translate properly, hope you understand).
I will rebuild everything to stock. The carb&complete ignition are the original ones from 1974 so it's not a wonder it has some problems!
I made the experience, that when you start tuning your engine it loses reliability, many of my friends (from the video for example) are building or have built performance engines but I am the only one from our club without bigger defects (Olds POWER!!!). I drove the Olds at more than 100mph

Regards

February 14th, 2011, 05:23 PM
My 74 Cutlass I bought from the original owner in 1986 was a points car.

February 14th, 2011, 08:01 PM
Excellent, OldsCruiser!

Remember, these cars were rock-solid reliable back in their day, and can be today with the proper maintenance, just like, for example, a BMW Bavaria or a Mercedes 280 (and does anybody drive those around with their original points and condensers, and with untouched carburetors?).

- Eric

February 15th, 2011, 01:44 AM
Hehe, what a fortune you mention the Mercedes 280! My brother and I partially restored a 280S (W116) as a birthday present for my father last year! It is a 1978 all stock. It has 190k miles and runs like new! You can see it here:
http://www.youtube.com/watch?v=xEsU-Q333GQ
Thread
Thread Starter
Forum
Replies
Last Post
August 20th, 2008

07:26 AM
December 13th, 2007

01:38 PM
August 5th, 2004

06:16 PM